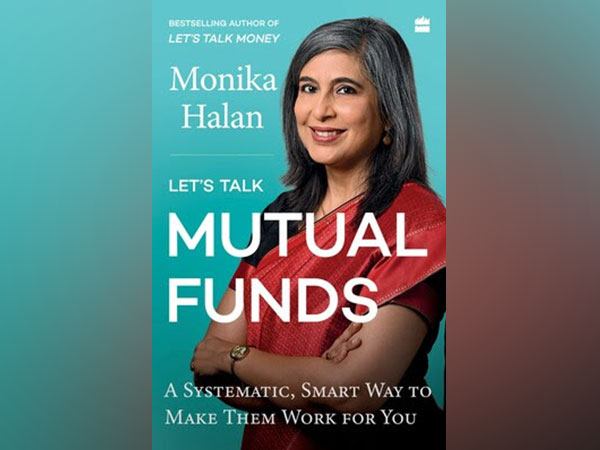 Let's Talk Mutual Funds: A Systematic, Smart Way to Make Them Work for You by Monika Halan Releasing on 27 June 2023
Jun 07, 2023
PRNewswire
New Delhi [India], June 7: In Let's Talk Mutual Funds, Monika presents an actionable blueprint for readers who want to build wealth in a smart, swift manner. Let's Talk Money helped readers plan their financial life in a better way, the feedback from a larger majority was to have a book on how to action the basic investment ideas in the book.
In the last decade, the growing popularity of mutual funds have gotten the Indian middle class interested in them. However, there are still many who do not understand mutual funds as an investment tool, are too scared to take the plunge or are simply standing on the sidelines seeing others invest. Monika takes the readers, in her own inimitable style, making the reader understand her investing needs, available product types and eventually taking an informed plunge to build long term wealth.
"It is my passion to change the way Indians think about money. Let's Talk Mutual Funds takes my earlier work, Let's Talk Money, forward, from organizing finances to managing investments. Let's Talk Mutual Funds gives readers a systematic route to shortlist and select mutual funds. It enables them to build personalized portfolios that suit their unique situations. I take great joy in simplifying complex issues. I use analogies and real-life stories to make this dry topic of investing into an exciting participative ride. Indian investors are pouring more than a trillion rupees a year into mutual funds - I want to give them, and the new investors, a roadmap so they can maximize their potential. Let's Mutual Fund!" says Monika Halan, the author.
"With Let's Talk Money, Monika Halan started a personal finance revolution in the country. Monika's biggest USP is her ability to explain finance and money to anyone in the easiest manner possible. With Let's Talk Mutual Funds, Monika takes her readers on a new journey where she makes investing in mutual funds not only easier but also answers any questions that any investor has before getting started. If you're thinking of mutual funds, this is the go-to book," says Sachin Sharma, Executive Editor HarperCollins India.
ABOUT THE AUTHOR:
Monika Halan is a trusted personal finance writer, speaker, and author who helps families get their money decisions right. She is the author of the bestselling book Let's Talk Money.


About HarperCollins Publishers India
HarperCollins is celebrating its 30th anniversary this year, having begun publishing in India in 1992. HarperCollins India publishes some of the finest writers from the Indian Subcontinent and around the world, publishing approximately 200 new books every year, with a print and digital catalogue of more than 2,000 titles across 10 imprints. Its authors have won almost every major literary award including the Man Booker Prize, JCB Prize, DSC Prize, New India Foundation Award, Atta Galatta Prize, Shakti Bhatt Prize, Gourmand Cookbook Award, Publishing Next Award, Tata Literature Live! Award, Gaja Capital Business Book Prize, BICW Award, Sushila Devi Award, Sahitya Akademi Award and Crossword Book Award. HarperCollins India also represents some of the finest publishers in the world including Harvard University Press, Gallup Press, Oneworld, Bonnier Zaffre, Usborne, Dover and Lonely Planet. HarperCollins India has won the Publisher of the Year Award four times at Tata Literature Live! in 2022, 2021, 2018 and 2016, and at Publishing Next in 2021 & 2015. HarperCollins India is a subsidiary of HarperCollins Publishers.
30 YEARS OF PUBLISHING IN INDIA
At HarperCollins, we believe in telling the best stories and in finding the widest possible readership for our books in every format possible. We started publishing 30 years ago in India and a great deal has changed since then, but what has remained constant is the passion with which our authors write their books, the love with which readers receive them, and the sheer joy and excitement that we as publishers feel in being a part of the publishing process.
Over the years, we've had the pleasure of publishing some of the finest writing from the subcontinent and from around the world, and some of the biggest bestsellers in Indian publishing history. Our books and authors have won a phenomenal range of awards, and we ourselves have been named Publisher of the Year several times. But nothing has meant more to us than the fact that millions of people read the books we publish, and somewhere, a book of ours might be making a difference to someone.
As we step into our fourth decade, we go back to that one word - a word which has been a driving force for us all these years.
(Disclaimer: The above press release has been provided by PRNewswire. ANI will not be responsible in any way for the content of the same)