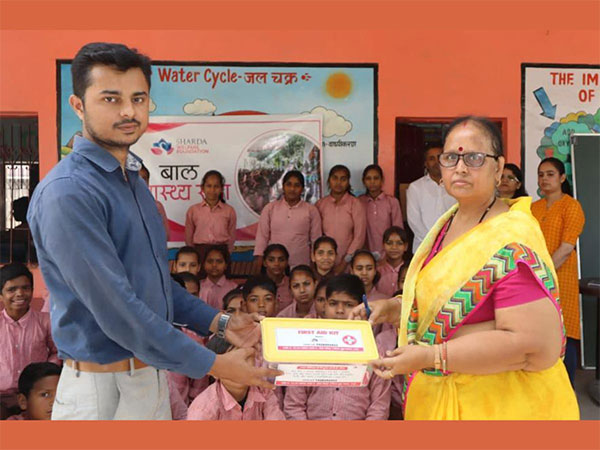 Sharda Welfare Foundation and School of Allied Health Sciences organises 'Bal Swasthya Sabha' Program Promoting Children's Health and Nutrition
May 26, 2023
PNN
Noida (Uttar Pradesh) [India], May 26:
and School of Allied Health Sciences have jointly organised a program called 'Bal Swasthya Sabha' to promote the health and nutrition of children in government schools. This initiative targeted more than 1100 students from underprivileged backgrounds who attend government schools in Greater Noida. The primary focus of the program is to educate children about the benefits of a balanced diet, including fruits, vegetables and millet.
Led by a team of nutrition experts, the Bal Swasthya Sabha program aims to establish a peer-to-peer network among school children, encouraging healthy habits. Various engaging activities such as health drives, interactive sessions and games conducted to educate children about the importance of healthy habits and empower them to make informed decisions about their well-being. Additionally, teachers were also involved in creating an environment that promotes learning and healthy habits.
In the first phase of this initiative, the Bal Swasthya Sabha sessions have been conducted in five government schools in Greater Noida, situated in the villages namely Ghodi Bachheda, Tugalpur, Lakhnawali, Sirsa and Bironda. During these sessions, the team of nutritionists noticed a lack of awareness among children regarding healthy food choices and they are more inclined towards to junk food. To address this issue, the program utilises interactive methods such as games and discussions to make nutrition education more engaging for children.
This program is part of Sharda Welfare Foundation's larger vision of establishing a School Network of Health Initiatives (SNEHI) within government schools. By equipping school children with knowledge and skills to make informed decisions about their health and well-being.


Desh Raj Singh, Assistant Registrar of Sharda Welfare Foundation, shared that the program's goal of educating children about the benefits of incorporating millets into their diets, particularly in light of UN announced 2023 as the International Year of Millets. The foundation hopes to expand this mission to other government schools in the region, as they firmly believe that empowering school-going children with knowledge and skills regarding their health and well-being will surely shape a healthier future for the nation.
Prof. Sally Lukose, Dean of Sharda School of Allied Health Sciences, highlighted that the engaging parents and the community is crucial in shaping children's attitudes and behaviors toward health and nutrition. With the support of Sharda Welfare Foundation, workshops and awareness programs will be organised to educate parents and the community about the significance of a healthy lifestyle and the inclusion of millets in their diets for optimal nutrition.
Sharda Welfare Foundation is a nonprofit organisation dedicated to promoting social welfare and uplifting underprivileged communities. Established in 2021, the foundation has been instrumental in making a positive impact by addressing critical social issues, providing essential services and fostering sustainable development. With a steadfast commitment to social change, Sharda Welfare Foundation focuses on key areas such as education, healthcare, skill development, women empowerment and community development. By implementing innovative initiatives and programs, the foundation aims to create equal opportunities and improve the lives of those in need.

(Disclaimer: The above press release has been provided by PNN. ANI will not be responsible in any way for the content of the same)